Thai style head massage awakens the spirits
A Thai head massage refreshes in a short time and promotes performance.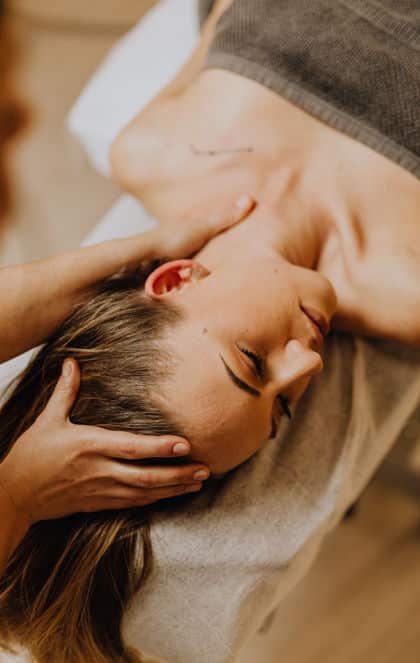 The Thai head massage
The head consumes the most energy, about 20-25% is used there for our control center. Nothing is more obvious than to do something good for the head with a special Thai head massage. Many meridians also run through the scalp and the scalp and facial skin is very sensitive and receptive to "massage signals".
During a head massage, the scalp is fondled, kneaded, stroked and touched, so that a pleasant relaxation enters the entire body. A lasting beautiful feeling sets in.
The head offers many opportunities for a Thai massage
Besides the main hair and underlying areas, there are many other important acupressure points on the ears and neck that can be stimulated by a head massage. Some of these acupressure points in the ear are also known from acupuncture. Gently massaging the skin of the face also promotes blood circulation and helps to remove waste products from the skin.
After a head massage, we like to offer our guests a tea, because this increases the feeling of relaxation and supplies the body with needed fluids. Especially for the ladies, this prevents wrinkles on the face and helps to achieve a more youthful appearance.
The massage naturally stimulates blood circulation in the scalp. This has a particularly relaxing effect and helps with sleep disorders, for example. Tension in the neck area, for example due to too much sitting or screen work, is released and helps regain calm and concentration. Like our other massage offers, the head massage releases tensions that can be the cause of headaches.
A Thai head massage refreshes in a short time and promotes performance. Perfect for in between during lunch break or on the way home.
A Thai massage at Siam Thai 95 is soothing and relaxing
Preventive for your relaxation and to strengthen body and mind for everyday life at work and family. This time out acts like a small vacation and you can dedicate yourself to upcoming tasks fresh and relaxed. We help you to find your balance. And if it should tweak somewhere, then we free your body from pressure, stress and pain with our Thai massage.
Treat yourself to some time out and enjoy our Thai massages
More Thai massages for you
Wellbeing and relaxation with a Thai massage
Full body massage
A traditional Thai full body massage for stimulation of the energy system, targeted treatment of blockages and for relaxation.
Foot massage
Foot massage focuses on the stimulation of specific pressure points on the feet, with the aim of positively influencing the well-being of the whole body.
Other treatments and massages on request
If you have special requests, then ask us.